Comment on this report, or find other reports.
Our Mystery Worshippers are volunteers who warm church pews for us around the world. If you'd like to become a Mystery Worshipper, start here.
Find out how to reproduce this report in your church magazine or website.
1046: St Martin-in-the-Fields, Trafalgar Square, London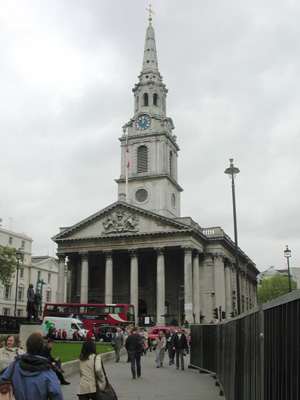 Mystery Worshipper:
Manifold.

The church:
St Martin-in-the-Fields, London.

Denomination:
Church of England.

The building:
This is the third church on the site, built in 1721 in the Italian Baroque style, and the building has apparently been highly influential in church design since. The interior features a very ornate and high ceiling, but below this is relatively plain: dark wood pews, white walls and no stained glass except for a plain blue cross. There has been a church here for over 800 years.

The church community:
St Martin's abounds with activities across the spectrum, including youth and adult education, weekly classical concerts, Connection at St Martin's, which cares for homeless people, 25 church services per week, including Taizé services, their well-reviewed Café in the Crypt which apparently has "spooked and spicy charm", and regular jazz nights, also held downstairs. All of which means that the typical congregation has a high number of visitors.

The neighbourhood:
The church is on the north-east corner of Trafalgar Square. Within a short walk is London's theatre district, the Houses of Parliament and Chinatown.

The cast:
The preacher was Rev. Liz Griffiths, the curate, with Sibyl Allen leading the prayers and Dorothy Walker giving one of the readings. Oddly, the other reader and the ladies who led the service and presided at the eucharist were uncredited.


What was the name of the service?

Morning eucharist, 10am.


How full was the building?

Getting on for half full (200 downstairs, with seating for about 500).


Did anyone welcome you personally?

I was welcomed with a handshake, asked where I was from, given a sheaf of papers and then shown to a pew. Apparently, I belonged about two-thirds of the way back: others got more or less exalted seats.


Was your pew comfortable?

A fairly standard wooden pew, although there was a lump where I first sat down. I moved along to a more comfortable bit!


How would you describe the pre-service atmosphere?

Most people were silent or whispering quietly, except for my neighbour, who kicked the kneeler over very loudly as she settled down.


What were the exact opening words of the service?

"Welcome to the eucharist at St Martin-in-the Fields." A special welcome was given for visitors, including the Archbishop of Melanesia and two African bishops.


What books did the congregation use during the service?

A home-produced Common Worship sheet, another book including the music for the parts of the service sung by the congregation, plus sheets giving the words of the hymns. There were no pew Bibles, and only a handful of people had brought their own.


What musical instruments were played?

Organ, together with a choir. Both were good without being stunning, which surprised me, given the reputation of the church. They were clearly being used to lead worship rather than show off. This was definitely a service, rather than a performance.


Did anything distract you?

Juggling the various bits of paper, which wasn't helped by the page references to the eucharist setting being wrong. (Having said that, as a musically literate visitor, I appreciated being given the music so I could join in.) A lady near the front had hair ornaments that resembled pencils, complete with the eraser and metal bit that it sits in, and I wondered why nobody had told her they looked like that!


Was the worship stiff-upper-lip, happy clappy, or what?

Formal Anglican. I caught a couple of signs of the cross, but things went no higher than that. The service was well executed, but lacked a bit of passion and excitement.


Exactly how long was the sermon?

13 minutes.


On a scale of 1-10, how good was the preacher?

7 – A clear speaker with a mild Welsh accent that became stronger the more she spoke about Wales! She delivered a well-crafted sermon which managed to raise issues without being a platform for her own political opinions. The only minus was that she looked at her notes a little too much.


In a nutshell, what was the sermon about?

She started by talking about the Chartists and how they had fought for our right to vote (particularly in Wales), and contrasted this with our attitude today, that voting is another consumer choice. Although the Bible doesn't tell us how to vote, Jesus' statement, "I am the way, the truth and the life," gives us some pointers. We should have confidence that we can change things; we should get involved in local affairs; we should seek to find the truth on the issues (notably asylum seekers) and vote to provide life for others; we should consider globalisation, justice, sustainability and other issues.


Which part of the service was like being in heaven?

Being among Christians from around the world in a church which takes its setting at the heart of London seriously, and which recognises that the the whole world is out there.


And which part was like being in... er... the other place?

Hell is other people... Part of the attraction of liturgical services is all saying and singing the same words together. My neighbour was in a rush, almost always ahead of the beat and using her own variants in places – and she did it sufficiently loudly to make picking up the rhythm from others hard.


If intercessory prayers were said, what issues were raised?

We prayed for the persecuted church worldwide, the general election, and those involved in leading services at St Martin's. They must have known that the Mystery Worshipper was in town, as among the prayers was one to accept criticism when offered, as well as praise, and to handle it well!


What happened when you hung around after the service looking lost?

One of the notices encouraged us to chat over coffee – even with the bishops, who were planning the next Lambeth conference. And this is what happened: someone near me introduced himself at the end of the service, and another visitor came over for a long chat during coffee. I nearly got lost on the way to the coffee, though: it was advertised as being downstairs, but I only found where this was by trailing some other worshippers to the side door in Duncannon Street, which leads into the crypt.


How would you describe the after-service coffee?

Good, very strong, hot filter coffee in a paper cup. Biscuits were also on offer.


How would you feel about making this church your regular (where 10 = ecstatic, 0 = terminal)?

8 – The combination of a strong outward focus, an international heart and good music appeals to me. However, the church comes across as liberal and very Anglican, both of which would be a problem to me personally.


Did the service make you feel glad to be a Christian?

Definitely. It was an encouragement that I'm part of something bigger, and that if Christians act together things can and will happen.


What one thing will you remember about all this in seven days' time?

A painting I was looking at while being served communion. It looks like a normal, iconic view of a saint, but the face is that of a Chinese lady wearing glasses. This was a further reminder that God has saints everywhere, and that they need not be perfect.
We rely on voluntary donations to stay online. If you're a regular visitor to Ship of Fools, please consider supporting us.
The Mystery Pilgrim
One of our most seasoned reporters makes the Camino pilgrimage to Santiago de Compostela in Spain. Read here.
London churches
Read reports from 70 London churches, visited by a small army of Mystery Worshippers on one single Sunday. Read here.