Comment on this report, or find other reports.
Our Mystery Worshippers are volunteers who warm church pews for us around the world. If you'd like to become a Mystery Worshipper, start here.
Find out how to reproduce this report in your church magazine or website.
1036: Bloomsbury Baptist, Bloomsbury, London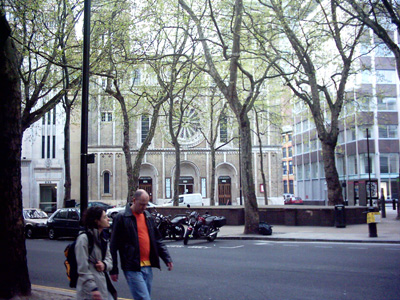 Mystery Worshipper:
Mystic Magpie.

The church:
Bloomsbury Baptist, 235 Shaftesbury Ave, Bloomsbury, London WC2 (map).

Denomination:
Baptist.

The building:
It still looks like a church, despite having been built by a railway maker and pulled apart later by Lego hobbyists born before their time. Inside are curving, clean, modern lines – very 1960s.

The church community:
The church highlights socio-political issues such as poverty, both locally and worldwide, combined with an emphasis on the arts, as befits a Bloomsbury church. A recently deceased member has left a bursary to fund artistic projects, as well as a poignant sculpture of her own. Another sculpture depicts a violinist made of machine-guns, part of a Christian Aid "Swords into Ploughshares" project. The sanctuary is only one part of the building, and straightforward worship is only part of the church's activities.

The neighbourhood:
Plenty of restaurants, shops, and commuters, but more housing, and more homeless people, than immediately apparent. Not far away are university buildings, whose students are more likely than the Bloomsbury Baptists to emulate the Bloomsbury Set.

The cast:
Dr Brian Haymes (minister) and Peter Howe (today's reader, and a train driver for Virgin).


What was the name of the service?

Evening service, 6.30pm.


How full was the building?

Fairly empty, though I hear the 11am service is much better attended. A meeting had been held in the afternoon as part of the long process of choosing a minister to replace Dr Haymes, who will be retiring soon. The church is open on weekdays, 10 to 4. There are discussion groups, youth groups and concerts. By Sunday evening, I expect the building needs a rest.


Did anyone welcome you personally?

Nearly everyone, I think! In the porch, several people welcomed me, some of them checking on my potential as a chorister, reader or at least a regular. As I took a seat, I was beckoned by a smiling man sitting quite a lot further down the long, curved pew, and felt it would be graceless to stay where I was. Just before the service began, a lady sat by my other side and spoke to me, too. Feeling a bit too welcome, I prayed I might manage without taking notes.


Was your pew comfortable?

No kneelers, and no kneeling – a sensible wooden pew, in which I could have sat comfortably for twice as long.


How would you describe the pre-service atmosphere?

Quiet chatter. The man who had beckoned me – a deacon, I think – told me a bit about the congregation, introducing me to a visitor from Toronto next to him, and pointing out a high-court judge and his wife.


What were the exact opening words of the service?

"God is Spirit."


What books did the congregation use during the service?

The Bible, and a Baptist hymn book.


What musical instruments were played?

In this 1960s setting, I was looking around apprehensively for a folk-singer with a guitar hidden under her hair, when I was reassured by the appearance of the eternal organist, Philip Luke, who could belong in any era. The organ was the only instrument this evening, but I was told there had been a twelve-piece orchestra in the morning – a group of accomplished musicians from the church's membership, organised, naturally, by the organist.


Did anything distract you?

Recalling other interiors of a similar style (churches, lecture rooms, school assembly halls and meeting halls), and wondering whether they are intrinsically stultifying to the imagination, since I found myself unable to imagine anything else while in that setting. I think that may be the point.


Was the worship stiff-upper-lip, happy clappy, or what?

Prayerful and focused.


Exactly how long was the sermon?

17 minutes – and worth every second.


On a scale of 1-10, how good was the preacher?

9 – Within the theme of election, the preacher managed to link a range of Christian beliefs, practices and values, relate them to the day's readings, expound theological concepts and address current issues, without appearing to contrive the picture. Facets of a fairly complex argument just slid into place. Stifling a groan, I realised the notebook would be necessary.


In a nutshell, what was the sermon about?

Elections, including the recent papal one, and the impending general one, are important, and we should take them seriously. Some politicians don't do God, but Christians definitely do politics. Election is a big theme in the Bible. God chooses not only Jews, not only Christians, not only those who feel "saved", but everyone, through Christ. More selective interpretations of election were explained and their good points acknowledged. An extreme view, according to which many of us are damned, but can do damn all about it (my phraseology), has at least the merit of teaching humility in the face of God's sovereignty. The apparent conflict between the claim that God is sovereign, and the claim that our own choices matter, is solved by the performance of God's will through Christ, linking love, humility, mission, responsibility, ecumenism, community and national politics. (That's the smallest nutshell I can manage.)


Which part of the service was like being in heaven?

Though the singing was enthusiastic rather than beautiful, I'm a holy fool in the presence of a good hymn, especially the Charles Wesley one at the end: "O Thou who camest from above".


And which part was like being in... er... the other place?

The gradual realisation that not only God, but most of this small congregation, had seen through my Mystery Worshipper charade.


If intercessory prayers were said, what issues were raised?

We prayed for people who are running out of various items, including time and patience. We prayed for people who are running out of faith, and relying on the faith of others, picked up here and there. If I shifted uncomfortably at this point, it had nothing to do with the pew.


What happened when you hung around after the service looking lost?

No chance of looking lost. I was told about the origins of the church and its mission work past and present; I was shown paintings and sculpture, the organ and the gallery; I was introduced to the minister and several church members; I was asked to come back again, to sing in the choir, to join a discussion group. I almost felt guilty for not living in Bloomsbury.


How would you describe the after-service coffee?

Choice of tea or coffee, in paper cups. I wondered whether this represented the election, but decided the cups would have to be plastic, and that in addition to tea and coffee, there would have to be cocoa, fizzy drinks in several colours, and perhaps some cyanide. I must remember to take this election seriously.


How would you feel about making this church your regular (where 10 = ecstatic, 0 = terminal)?

4 – Sermons like this would be very tempting, but my angels try to guard me against 1960s interiors.


Did the service make you feel glad to be a Christian?

Engagement with real issues; congregation assumed to have brains; artistry encouraged – yes, definitely.


What one thing will you remember about all this in seven days' time?

A Virgin and Child statue, vivid blue and white, in a corner on a staircase. Nobody knows where it came from, but no one thinks it would be right to get rid of it. So, there it stays – an unsolved mystery in a bastion of certainty; a symbol of the ecumenism this church espouses. A shred of doubt. The moving line in the hexagram. The trace of the Other.
We rely on voluntary donations to stay online. If you're a regular visitor to Ship of Fools, please consider supporting us.
The Mystery Pilgrim
One of our most seasoned reporters makes the Camino pilgrimage to Santiago de Compostela in Spain. Read here.
London churches
Read reports from 70 London churches, visited by a small army of Mystery Worshippers on one single Sunday. Read here.