Comment on this report, or find other reports.
Our Mystery Worshippers are volunteers who warm church pews for us around the world. If you'd like to become a Mystery Worshipper, start here.
Find out how to reproduce this report in your church magazine or website.
Holy Week and Easter 2016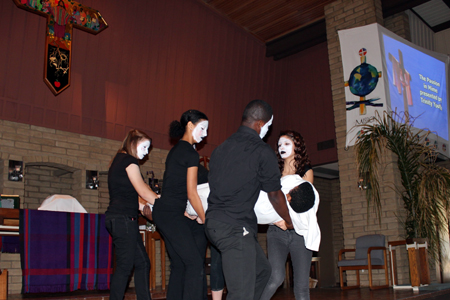 Didn't our Mystery Worshippers have a busy walk to the Cross this year! It all started with a mime of the Passion and Jesus' entry into Jerusalem being compared to a moon walk. Then on to a tenebrae where the church cat got more attention than the service. After a very friendly commemoration of the Last Supper on Maundy Thursday, it was off to a Good Friday service with painted t-shirts but no hot cross buns; a magical Holy Saturday vigil with lavender incense; and a "cheerfully sweet" Easter Sunday service (you'll find out why).

> Passion mime at Trinity Lutheran, Phoenix, USA
> One small step for Jesus at Sidmouth Methodist, UK
> Everyone friendly: Westminster Presbyterian, Phoenix, USA
> Where's the cat? St Paul's, Covent Garden, London

> Good Friday rags at St Mark's, Harrogate, UK
> Glad, humble, thankful: St Catherine's, Montacute, UK
> Hushed rebellion at Great St Bart's, West Smithfield, London

> Journey to the Cross at Holy Trinity, Bosham, UK
> Quite magical: St Bridget and St Cwyfan, Dyserth, Wales
> Dealing with Jesus at First Baptist, Arlington, USA
> Cheerfully sweet: West Valley Family Church, Glendale, USA


More Mystery Worshipper reports
We rely on voluntary donations to stay online. If you're a regular visitor to Ship of Fools, please consider supporting us.
The Mystery Pilgrim
One of our most seasoned reporters makes the Camino pilgrimage to Santiago de Compostela in Spain. Read here.
Christmas 2014
On Christmas Day 2014, our Mystery Worshippers ding-donged merrily their way to both of Liverpool's cathedrals as well as to churches in New Zealand, Arizona, Colorado and Texas. Read all about how the herald angels sang for them..