Comment on this report, or find other reports.
Our Mystery Worshippers are volunteers who warm church pews for us around the world. If you'd like to become a Mystery Worshipper, start here.
Find out how to reproduce this report in your church magazine or website.
1423: Castleton Baptist, Marshfield, Newport, South Wales
Mystery Worshipper:
Wandering Star.

The church:
Castleton Baptist, Marshfield, Newport, South Wales.

Denomination:
Baptist.

The building:
The building is in the middle of a small housing estate. It was erected about 50 years ago and appears to be of a prefabricated style. This Christian centre is functional rather than beautiful and is undergoing a period of refurbishment. The room where the service was held seated about 100 people. There are at least another three rooms and an upper storey.

The church:
Castleton Baptist Church moved into this building about five years ago. The original church building became something of a burden and the fellowship sold the bricks and mortar. I think there is a preservation order on the original building, which is on the A48 between Newport and Cardiff and now acts as a signpost for the new building, just over a mile away. The building must be used for other functions through the week as the chairs had to be stacked before we all left.

The cast:
One of the church deacons, David Bateman, led the service. The minister, Revd Roger Foster, was away at Spring Harvest.

The date & time:
April 15th 2007, 10.30am.


What was the name of the service?

Family Worship.


How full was the building?

About 75 per cent full. A number of the youngsters were away at Spring Harvest.


Did anyone welcome you personally?

I was welcomed with a smile and a handshake as I was handed a copy of the church bulletin, the hymn book and the Bible. The lady who had welcome me at the door came to find me and gave me a copy of the church magazine. I made a comment to my neighbour about the cloth book holders on the backs of the chairs and conversation ensued as to where I was from.


Was your pew comfortable?

The seating was comfortable, stackable chairs, with these nifty book holders on the back of each one.


How would you describe the pre-service atmosphere?

I was quite early for a change! As I arrived, one of the younger members was dribbling a football around the chairs. I think the whole room had to be prepared for every service, so the end of that preparation was happening. However, full attention was given to each person as they arrived.


What were the exact opening words of the service?

"Good morning. Shall we start with a few choruses?"


What books did the congregation use during the service?



Songs of Fellowship

and the

New International Version

of the Bible.


What musical instruments were played?

Keyboards, which sounded like a piano and organ rolled into one, and occasional tambourine shaking from the congregation.


Did anything distract you?

The building was in a state of alteration, for which apologies were given, so a freshly plastered patch at the front was a little distracting as I mused: had it been a serving hatch?


Was the worship stiff-upper-lip, happy clappy, or what?

Enthusiastic singing interspersed with some clapping and gentle tambourine shaking. Reserved happy clappy.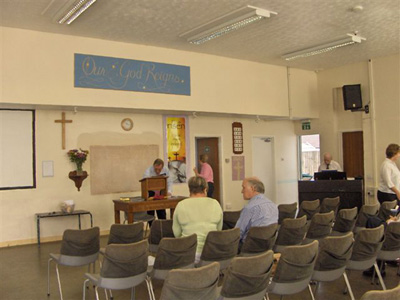 Exactly how long was the sermon?

Children's talk: about 7 minutes. Sermon: 25 minutes.


On a scale of 1-10, how good was the preacher?

9 – David was not afraid to use props and was obviously recognised as such.


In a nutshell, what was the sermon about?

The children's talk began with a mixing bowl, flour, fruit, sugar and involved the breaking of eggs, which caused much amusement, particularly when someone almost ended up splattered with the beginnings of a cake. This theme developed into us arriving as individuals, the ingredients of one fellowship. Sometimes as individuals and as a fellowship we get broken, like the eggs, but Jesus can make us whole again. The sermon began with the opening of a map, and the suggestion that to at least one person in the congregation, it was like a foreign language, and just led to confusion. The text for the sermon was John 14:5-6, and the main theme was about us travelling along in life, away from Jesus, taking detours. The way, truth and life that Jesus offers is the template that many are seeking. At this point we sang, "I am a new creation". We need to be travelling from A-B with Jesus, and no one can snatch us away.


Which part of the service was like being in heaven?

The music made me feel as if I was in heaven. The organist was so pleased to be praising God with his talent, and the Holy Spirit seemed to flow through his fingers.


And which part was like being in... er... the other place?

I suppose being egged would have been pretty unpleasant!


What happened when you hung around after the service looking lost?

I wasn't lost for many seconds, I think almost everyone came to speak to me. Moved into the area? On holiday? How did you find out about us? Thank you for joining us. We've just come back from Spring Harvest. Sunday Club met outside today, the fire escape is being refurbished. Lovely to see you. Have you been before? Where are you from? How interesting! Thank you for joining us.


How would you describe the after-service coffee?

There was tea, coffee and plenty of juice – and I think there were biscuits, too. There were plenty of washer-uppers.


How would you feel about making this church your regular (where 10 = ecstatic, 0 = terminal)?

8 – They were a lovely warm fellowship, with a wide variety of ages and with lots of care in the community links established.


Did the service make you feel glad to be a Christian?

Yes it did – real love and joy shared.


What one thing will you remember about all this in seven days' time?

Remaining seated and prayerfully singing, "I am a new creation".
We rely on voluntary donations to stay online. If you're a regular visitor to Ship of Fools, please consider supporting us.
The Mystery Pilgrim
One of our most seasoned reporters makes the Camino pilgrimage to Santiago de Compostela in Spain. Read here.
London churches
Read reports from 70 London churches, visited by a small army of Mystery Worshippers on one single Sunday. Read here.