Comment on this report, or find other reports.
Our Mystery Worshippers are volunteers who warm church pews for us around the world. If you'd like to become a Mystery Worshipper, start here.
Find out how to reproduce this report in your church magazine or website.
1413: St Michael and All Angels, Arts Centre Great Hall, Aberystwyth, Wales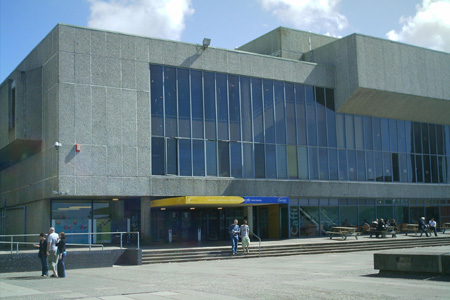 Mystery Worshipper:
CVP.

The church:
St Michael and All Angels, meeting at the Arts Centre Great Hall, Aberystwyth, Wales. The service described in this report was a special one to which the other local town churches had been invited, and was the culmination of a week-long mission led by the Rt Revd Carl N Cooper, Bishop of the Diocese of St David's.

Denomination:
Church in Wales.

The building:
The Arts Centre is in the heart of the campus of the University of Wales, Aberystwyth. The Great Hall is on the second and third levels and is the largest space in the centre. There are also rehearsal rooms, sound studios, a 350 seat theatre, a cinema, bookshop, cafe, pizzeria, bar, and a couple of art galleries.

The church:
The various groups, missions and outreaches conducted by St Michael's are listed on their website. The Arts Centre itself is not devoid of religious activity – one of the buildings is a chapel, a soulless concrete box used every week by the local town Christian Union for an event universally known as Jesus Toast, providing students with tea and toast plus a side order of turn-or-you'll-burn Christianity. I once witnessed a young man, obviously drunk, being told that a deceased friend from back home was burning in hell and that was where he would go since he was gay. All this has made the general student population somewhat dubious of Christian events on campus.

The neighbourhood:
Founded in 1872, Aberystwyth was the first university institution to be established in Wales. The Arts Centre is in between the Student Union building and the Hugh Owen building, a piece of 60s architecture containing a library and several university departments, lecture theatres, offices and seminar rooms.

The cast:
Bishop Cooper delivered the sermon. The service was introduced by the rector of St Michael's, the Revd Stuart Bell, who also conducted an interview about which I'll have more to say later. The Revd Andy Herrick, vicar, led the music, assisted by about ten others. There were also a few people acting as ushers, and a group who went forward to be available for prayer or a chat near the end.

The date & time:
25 March 2007, 6:00pm.


What was the name of the service?

Celebration Praise with Bishop Carl.


How full was the building?

The main area holds around 200 people and was full before I even arrived; we were directed upstairs. There are three side areas upstairs, each holding around 150. Two of these were totally full and the other had a good number in at the height of the service.


Did anyone welcome you personally?

There were two ushers/doormen who told us that the main area was already full and directed us upstairs. Other than that, no one greeted us.


Was your pew comfortable?

Good theatre-style seat, nice and comfortable. But we spent the first half hour or so standing, and when people did sit there was a lot of squeaking coming from chairs somewhere below us.


How would you describe the pre-service atmosphere?

It felt more like I was attending a concert – everyone was talking excitedly. But given the type of service and that it was coming at the end of what must have been a very long week, it was not an unpleasant atmosphere. Everyone seemed happy to be there.


What were the exact opening words of the service?

The very first sentence was in Welsh, followed by, "The warmest of welcomes to this special service," in English.


What books did the congregation use during the service?

We were assured that everything we'd need would be projected onto the screen, but, just in case, we were given a double-sided sheet with all the words for the songs and prayers. We were also given two cards (one in English, one in Welsh) which had spaces for leaving contact details plus tick boxes next to "I want to be a Christian," "I would like someone to call and discuss this with me," etc. They were nauseatingly like those cartoon pamphlets known as Chick Tracts.


What musical instruments were played?

Revd Herrick led on guitar and vocals, along with two more guitars, two keyboards, flute, Irish whistle, drums, and about five other singers.


Did anything distract you?

The most distracting thing was the number of people who kept coming in and going out during the service. There was a crèche being run somewhere and obviously there was a number of parents checking up on their children. At one point there even appeared a message on the screen asking for one couple to collect their child – thankfully this was a one-off.


Was the worship stiff-upper-lip, happy clappy, or what?

The songs were in a modern style and bilingual in an excellent way. A few people started clapping in one of the songs, but it wasn't taken up by the congregation on the whole. Revd Herrick seemed to be one of those musicians who before a single note is played will go through the lines of a verse or two as if they are a prayer. Some people may approve of this, but personally I've always found it takes something away from the songs – they're there for singing, not saying!


Exactly how long was the sermon?

45 minutes.


On a scale of 1-10, how good was the preacher?

8 – The bishop was wonderfully engaging and witty, and got his message across well.


In a nutshell, what was the sermon about?

He used an analogy to a car's SatNav to make the point that we all have a GodNav within us, which gives us directions on which way to go. Different experiences can change the way we think of things. Events like 9/11 and 7/7 are in part a reaction to religion being forced into the private sphere. There is injustice in the world but we must work against it. The key message of Christianity is hope.


Which part of the service was like being in heaven?

The bishop's talk was wonderful, and the music was polished in every detail and beautifully presented.


And which part was like being in... er... the other place?

At one point, a videotaped interview with a couple from the church was played, but the video stalled several times and then was scrapped altogether. The sound wasn't great, either, though this was apologised for in advance.


What happened when you hung around after the service looking lost?

The bishop invited anyone who wanted to pray with or talk to someone to come and speak with one of the volunteers at the front. But no one came forward, leaving the volunteers just standing there. And there had been no collection, so on my way out of the auditorium I handed in my two contact cards mentioned above, with the Mystery Worship calling card sandwiched between them. As I was heading on, I had the distinct feeling that the usher collecting them had discovered that I had written nothing on the contact cards and had found the calling card. So I slipped through the crowd as quickly as possible down to the main level, where there were plenty of people milling around. A few people I knew came over to chat.


How would you describe the after-service coffee?

There wasn't any. Refreshments had not been provided, and the Arts Centre coffee bar was closed (probably for the best, as it is way overpriced).


How would you feel about making this church your regular (where 10 = ecstatic, 0 = terminal)?

6 – I enjoyed the music and sermon, but this was a one-off event. Climbing up the hill to the Arts Centre a couple of times a week is not something I'd want to do regularly.


Did the service make you feel glad to be a Christian?

Overall, the service was very affirming. The event was a real celebration, and it was obvious that a lot of work has been put into it by the parish.


What one thing will you remember about all this in seven days' time?

I'd like to say the music, but sadly I think it will be the fact that no one came forward for counseling or prayer.
We rely on voluntary donations to stay online. If you're a regular visitor to Ship of Fools, please consider supporting us.
The Mystery Pilgrim
One of our most seasoned reporters makes the Camino pilgrimage to Santiago de Compostela in Spain. Read here.
London churches
Read reports from 70 London churches, visited by a small army of Mystery Worshippers on one single Sunday. Read here.