Comment on this report, or find other reports.
Our Mystery Worshippers are volunteers who warm church pews for us around the world. If you'd like to become a Mystery Worshipper, start here.
Find out how to reproduce this report in your church magazine or website.
1398: Gloria Dei Evangelical Lutheran, Providence, Rhode Island, USA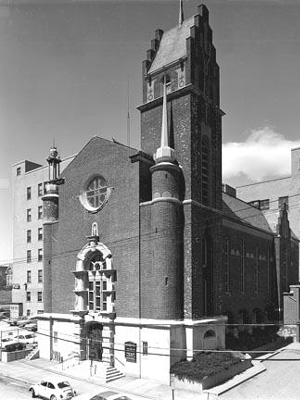 Mystery Worshipper:
Ralegh.

The church:
Gloria Dei Evangelical Lutheran, Providence, Rhode Island, USA.

Denomination:
Evangelical Lutheran Church in America.


Comment:

We have received a comment on this report.

The building:
The church was registered as a National Historic Site in 1984. It is large and impressive with a huge bell tower. One article described the church as having Swedish decorative touches, but I couldn't figure out what those were. The inside is gray stone with a striking large pre-Renaissance style painting of Jesus floating above his grave site as Mary Magdalene discovers his body is missing. Unfortunately, I wasn't able to find out much more, as the church's website doesn't provide any information on its architecture nor were there any handouts about it at the church itself.

The church:
The church is striving to reach out to a bilingual and ethnically diverse community, partially motivated by a recent visit from the bishop who remarked on his personal worries that the Lutheran church was dying because of its inability to reach out to other ethnic groups. This effort is in the beginning stages, however, as a visitor from a nearby sister church told me. The church has a Sunday School, a tutoring program, youth programs, and Saturday evening "prayer gatherings."

The neighborhood:
The church is in the downtown area of Providence, directly across from the Providence Place Mall and near the State Capitol, hotels, and the Dunkin' Donuts arena. A good place for tourists, but I'm not sure where the regular parishioners come from.

The cast:
The Rev B Santiago Rodriguez, pastor. Joyce Carol, assisting minister. Lectors Gloria Shafee-Moghadam and Victoria Moscoso. Music provided by the Grupo de Adoracion y Alabanza.

The date & time:
November 19, 2006, at 10.15am.


What was the name of the service?

Worship Service.


How full was the building?

There were about 40-50 people in a very large church. So it seemed pretty empty.


Did anyone welcome you personally?

No one greeted me as I came in, but after I took my seat, a man came up to me, introduced himself as Dave, offered me a service pamphlet, and told me a little bit about the bilingual aspects of the service. He also gave me a little card to fill out so they could officially welcome me to the service.


Was your pew comfortable?

Standard wooden pews with worn orange cushions that still provided some padding. Pretty comfortable, although the leg space was tight. Thank goodness there was no kneeling required within the pew.


How would you describe the pre-service atmosphere?

The choir was practising with the musicians. As people came in they greeted each other enthusiastically with handshakes, hugs and kisses, then took their seats quietly until the next round of greetings.


What were the exact opening words of the service?

"Good morning. Today is the 24th Sunday of Pentecost. Welcome, everyone, and especially welcome to our guests."


What books did the congregation use during the service?

The service pamphlet provided all you needed, including the hymns. There was a

Lutheran Book of Worship

in the pew book rack.


What musical instruments were played?

A pipe organ was visible, but the three musicians played an electric piano and what looked to me to be congo drums.


Did anything distract you?

A baby cried during the readings, but only briefly.


Was the worship stiff-upper-lip, happy clappy, or what?

Although one woman made verbal responses (as you might find at a Pentecostal church) during the priest's Spanish sermon, on the whole I would describe the service as mainstream, not stuffy, but not overemotional.


Exactly how long was the sermon?

15 minutes in English, then another 15 minute sermon in Spanish.


On a scale of 1-10, how good was the preacher?

5 – I'd give Fr Rodriguez another point for his Spanish sermon. His first language is evidently Spanish, as his English sermon was more stilted in delivery than his Spanish version, which was evidently the same sermon. I think both sermons could have been cut in half, however, considering the subject. He was pretty repetitive.


In a nutshell, what was the sermon about?

When will time end? Jesus doesn't tell us. He tells us how the world will end, but not to allow us to recognize its coming. Jesus tells us how we should live in the bad times to come. The people of this world have been suffering for thousands of years. But the suffering will end, and in the meantime Jesus calls us to trust him and live in faith, doing our best to relieve the suffering around us.


Which part of the service was like being in heaven?

The choir's singing was a mixture of gospel and standard hymn singing. They were very talented and moving, and also seemed to be enjoying themselves immensely.


And which part was like being in... er... the other place?

The service ran much longer than I'm used to, and upon leaving, I found that my car was blocked in the parking lot. I knew Mrs Ralegh was waiting for me back at the hotel, but had no way to contact her. I and another visitor waited for about 10 minutes for people to leave and move their cars, but no one seemed to be going anywhere. We decided to go inside and the priest managed to find the owners of the blocking cars to let us out. I recommend to other visitors to this church that they park at the Providence Place Mall parking area across the street. The priest told us that they offered free parking to churchgoers.


What happened when you hung around after the service looking lost?

Since the service ran long, I didn't wait around, but at the end of the service, visitors were introduced and warmly applauded.


How would you describe the after-service coffee?

Hot coffee in styrofoam cups, apple and orange juice, and home made brownies and cornbread.


How would you feel about making this church your regular (where 10 = ecstatic, 0 = terminal)?

7 – The people seem very warm and involved in their worship. The bilingual service, while admirable, needs some tweaking as far as I'm concerned, because the service was too long for me.


Did the service make you feel glad to be a Christian?

Yes. I was very pleased to be in a church where Spanish and English speaking people were able to worship together. So often it seems that the Spanish service is held in the undercroft while the English goes on above in the sanctuary. As the man in the parking lot told me, "We're all God's people." You definitely feel that is true at this church.


What one thing will you remember about all this in seven days' time?

The pleasure-filled expressions of the choir as they sang.
We rely on voluntary donations to stay online. If you're a regular visitor to Ship of Fools, please consider supporting us.
The Mystery Pilgrim
One of our most seasoned reporters makes the Camino pilgrimage to Santiago de Compostela in Spain. Read here.
London churches
Read reports from 70 London churches, visited by a small army of Mystery Worshippers on one single Sunday. Read here.