Mystery Worshipper: Organ-grinder.
The church: La Jolla Presbyterian, La Jolla, California, USA. For our previous report on this church, click here.
Denomination: Presbyterian.
The building: White-washed, red-tiled, mock-mediterranean exterior, with courtyard and fountain and a complex of halls around. The worship space of the church is a wood-panelled interior, with pews, attractive stained glass windows, and a large platform at the front.
The church: It is big. The church has three ordained and five non-ordained executive staff who run a comprehensive range of ministries (caring, children's, men's, mission, senior, singles, student, women's, worship and art).
The neighbourhood: La Jolla is a wealthy suburb of a prosperous city (San Diego) in the gold-rush state of the richest nation on earth. The town is characterized by palms, stucco, drivers that are polite to pedestrians, a beach on which almost every recreation is restricted by state law, art galleries and designer shops. But they don't have it all – it is cloudy there two or three months a year. Southern California generally is suffering an electricity crisis (because of over-consumption, a.k.a. "under-capacity of supply"). This will make it more expensive for those with clifftop houses to run their personal elevators down to beach level. They also have a water supply crisis coming their way. But, for now, it is paradise (if you have money).
The cast: "Compering" by Debra Rowe (Director of Singles Ministries). Sermon by the senior pastor Rev. Stephen T. Murray. Musical contributions were lead by Sheila Vinton Hittle (Director of Worship and Arts) and the organist was Bill Lullo.

What was the name of the service?
Palm Sunday, 10.30am.

How full was the building?
Mostly full, a few hundred people.

Did anyone welcome you personally?
We found a warden to ask when the service would start, who answered our question and moved quickly on. As we sat at the end of a pew, a gowned figure with something pink and plastic sticking out of his face shook our hands, and that "I don't know whether I should know you or not" look flitted over his face. He turned out to be the senior pastor and the pink and plastic thing was his hands-free wrap-around "Madonna" mic. Early in the service the congregation was asked to shake hands with those around, but by the time I had hugged my wife and daughter, there were no takers for me (although my wife got a few shakes).

Was your pew comfortable?
As comfortable as a pew can be.

How would you describe the pre-service atmosphere?
High level of general hubbub, even over the organ prelude (which was an arresting, bluesy version of a spiritual played on a conventional pipe organ).

What were the exact opening words of the service?
"Good morning and welcome to worship. Would you please take a moment to look around and welcome those near you to worship."

What books did the congregation use during the service?
Bible (New International Version). Hymns for the Family of God (hymns with scored four-part harmony). A comprehensive order of service.

What musical instruments were played?
As well as contributing the prelude and robustly accompanying the single congregational hymn, the black-gowned organist contributed a lovely meditation. The fading echoes of this were drowned by a grand piano, bass guitar and drums accompanying a gospel choir of perhaps 30 or 40, who paraded in waving palm leaves. The choir and musicians performed several pieces during the service, with a very well rehearsed attempt at the "black Gospel" sound. However, none of them was black. I'd have to say white folks singing Gospel just doesn't sound the same.

Did anything distract you?
A sun visor worn by a lady a few rows in front, made of ivory brocade and encrusted with silver sequins. The US flag next to the pulpit – there is enough idolatry of the US flag without having it in church as well. The song performed by the Gospel choir that said, "King Jesus rides on a milky white horse", on the day we celebrate the wonderful symbol of Jesus riding on a lowly donkey.

Was the worship stiff-upper-lip, happy clappy, or what?
The spoken parts were plain and friendly. The organ bits were done fairly straight. The Gospel choir performances were determinedly happy and metronomically clappy. I thoroughly enjoyed all the music, but I didn't detect much of the enthusiasm of the choir infecting the congregation. I could have jived to the choir, but I wouldn't have dared.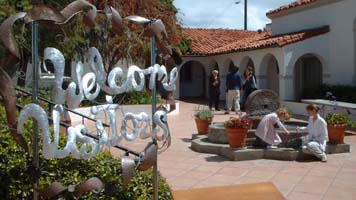 Exactly how long was the sermon?
19 minutes.

On a scale of 1-10, how good was the preacher?
8 – Very professional and engaging speaker. Well paced. Carefully chosen emphatic pauses, memorable epigrams, powerful contrasts, etc. Most of the sound bites were original or at least new to me. However, I had a problem: I kept imagining Bill Clinton in the pulpit. I could have been convinced it WAS Bill Clinton preaching, except that a) he didn't ooze smugness like the ex-president, and b) I never saw Bill Clinton with a pink Madonna mic. I'm sure at one point Rev. Murray used the word "discoboobriated". Maybe that means something in Californian.

In a nutshell, what was the sermon about?
"The power of a legacy." A great legacy comes from living well, not living long. It is the values we live by and the influence they have that constitute our legacy, not our accumulated wealth. King David's legacy was shaped by his heart for God.

Which part of the service was like being in heaven?
One hundred and twenty youths being "commissioned" for Christian outreach in Mexico. Coming from a church that is disproportionately silver haired, I couldn't believe my eyes.

And which part was like being in... er... the other place?
After a lovely rendition of a song whose theme was that "only love held him there on the cross", the audience... erm... I mean, the congregation gave a hearty round of applause for the performance.

What happened when you hung around after the service looking lost?
I hung around in a few obvious places, including next to the fountain, the coffee dispenser and the "Visitors Welcome" sign. No takers. Given the admirable openness of US culture in general, to be wholly ignored was disappointing. Surely SOMEONE could have discovered my Scots origins, told me that they love Scotland, that their ancestors were Scots, and that their other ancestors came over with the Pilgrim Fathers? But, hey, it was sunny, and I didn't mind too much – until the thought crossed my mind that perhaps I didn't exude enough wealth to be worth talking to. More likely there are just too many people for anyone to keep track of.

How would you describe the after-service coffee?
Weak coffee in an urn. No milk, only some vile "creamer" powder. Wasteful disposable cups! Have they no shame?

How would you feel about making this church your regular (where 10 = ecstatic, 0 = terminal)?
3 – While the musicianship displayed was exceptional and enjoyable, I always thought the point of the musical part of worship was participation. Personally, I couldn't go along with the passive pew-filler role the service demanded me to play. This church really needs to sort out its welcome. A sign saying "Visitors Welcome", no matter how artistic, just makes the visitor feel worse when it isn't true. Maybe the church is big and successful enough not to want any more folks to join it. Maybe they should plant a new congregation.

Did the service make you feel glad to be a Christian?
Yes, in a "well, it takes all sorts" sort of way.

What one thing will you remember about all this in seven days' time?
The bizarre mixture of organ and mock-Gospel music.