What was the name of the service?
The 6.30pm service.

How full was the building?
Every seat was full and a few were standing at the back. About 300+.

Did anyone welcome you personally?
I was welcomed at the door with a handshake, a "good evening" and a pink notice sheet full of very organized information, including preachers for all services, prayer topics and creche details. This gave me something to read before being engaged in conversation by a member of the church until the service began.

Was your pew comfortable?
Extremely comfortable orange hessian-covered wooden, interlocking chairs on a carpeted floor, raked to enable good visibility.

How would you describe the pre-service atmosphere?
Pleasant chatter, a sense of eagerness issuing from the musicians, who were keen to get started.

What were the exact opening words of the service?
"Good evening, good evening, welcome, welcome, welcome to West Street Baptist Church... we're expecting great things of God this evening."

What books did the congregation use during the service?
There were no books at all. The words to the songs were all projected onto the wall at the front. Of course everyone had brought their own Bible.

What musical instruments were played?
Keyboard, drums, and two guitars.

Did anything distract you?
Yellow obscure glass in all the windows to block out distractions (replacing original stained glass?) and a "lovely" shade of pink on the wall behind the stage.

Was the worship stiff-upper-lip, happy clappy, or what?
Very organised, with some gentle hand waving. We sang each chorus through twice, five before and three after the sermon.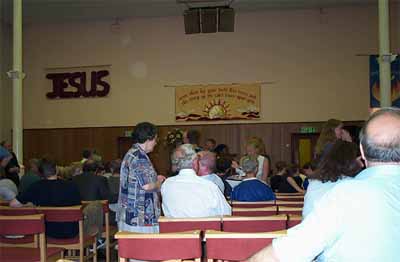 Exactly how long was the sermon?
Exactly 30 minutes.

On a scale of 1-10, how good was the preacher?
7 – Very relaxed, informal style in a Liverpudlian accent with some strange jokes and long stories. When he was at school there had been two other boys called Paul Davies and he had sometimes ended up doing their detentions. Once this had meant that he did not leave school for three weeks. This remark was followed by some gently restrained laughter.

In a nutshell, what was the sermon about?
The Third Commandment: "You shall not misuse the name of the Lord your God, for the Lord will not hold anyone guiltless who misuses his name." Names are important and mean something. God's name can be misused. Nowadays the name of God and Jesus are used lightly and people do not respect God or authority. But God is a powerful God and people will be held accountable. We can honour the name of God by not swearing, not using his name to back up our own ideas (spiritual blackmail), ensuring our lives match up to our words, and keeping a sense of awe and respect in worship.

Which part of the service was like being in heaven?
A wizard on the keyboards and a very slick drummer with assorted cymbals, plus excellent singing from the congregation.

And which part was like being in... er... the other place?
The yellow windows and pink wall.

What happened when you hung around after the service looking lost?
I could not really get away for people talking to me.

How would you describe the after-service coffee?
No coffee, just a lot of chatting.

How would you feel about making this church your regular (where 10 = ecstatic, 0 = terminal)?
8 – The church is so relaxed, I might end up going to sleep if I came here too often.

Did the service make you feel glad to be a Christian?
Yes, it made me feel warm all over, like lying in a warm bath filled with bubbles.

What one thing will you remember about all this in seven days' time?
A woman walking to the back during the sermon and lying face down at the back. At the end of the service she was still there and may well have gone to sleep.