What was the name of the service?
Patronal Mass in Honour of St Silas, at 6.00pm.

How full was the building?
There were 40 adults and four children.

Did anyone welcome you personally?
I was given a simple greeting and was asked if I would like to sit as near the front as possible? Considering that I arrived with barely five minutes to spare, I found the church sparsely filled.

Was your pew comfortable?
Wooden chairs with adequate kneelers.

How would you describe the pre-service atmosphere?
Quietly expectant with a few people whom I recognised from my own church.

What were the exact opening words of the service?
"Good evening and welcome to our service."

What books did the congregation use during the service?
Printed service booklet for the occasion, complete with hymns, clip art and parish prayer.

What musical instruments were played?
Organ.

Did anything distract you?
The reredos behind the High Altar was out of keeping with the rest of the decor.

Was the worship stiff-upper-lip, happy clappy, or what?
Reverentially Anglo-Catholic with incence.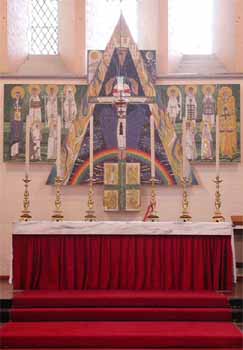 Exactly how long was the sermon?
8 minutes.

On a scale of 1-10, how good was the preacher?
7 – He started with a personnal reminiscence, as is his style. I have heard Fr. Graeme Rowlands peach many times and this was unfortunately not one of his most dynamic sermons, but loved his story about a swimming pool.

In a nutshell, what was the sermon about?
As this sermon was for a patronal festival, it required some reference to St Silas. This was dismissed by saying that most sermons on or about St Silas generally do not discuss his life and work. The main gist of the sermon was that as Christians we should witness and find fulfillment through Christ, and we should love and serve him in other people. He ended by saying that St Silas at his death had a vision of Christ on the cross, and this should be our vision, too.

Which part of the service was like being in heaven?
I very much enjoyed the setting use for the Kyrie, Gloria and Sanctus, which I had not heard before.

And which part was like being in... er... the other place?
The children were unfortunately distractingly noisy and apparently unsupervised in one corner of the church. It is a pity they could not have sat with their parents for the service, which was less than one hour in length.

What happened when you hung around after the service looking lost?
There was a simple party in the hall at the back of the church. I spoke to the parish priest and a gentleman who was creating their new website. I offered my digital pictures, which I think will be accepted.

How would you describe the after-service coffee?
Wine and soft drinks were provided with a buffet.

How would you feel about making this church your regular (where 10 = ecstatic, 0 = terminal)?
8.

Did the service make you feel glad to be a Christian?
Yes, and this was a very welcoming (even if rather small) congregation.

What one thing will you remember about all this in seven days' time?
I will try to put the new reredos out of my mind, but it will be difficult.