Mystery Worshipper: St Redevivus.
The church: All Souls, Spruce & Oxford Streets, Berkeley, California.
Denomination: Episcopal Church, USA.
The building: All Souls is an attractive building in an attractive setting in a residential neighborhood of Berkeley. There are beautiful copper doors opening into a spacious narthex. There is a well-kept courtyard between hall and church (also connected by an interior hallway in case of rain). The interior of the church itself is unremarkable, but there was a beautifully-wrought banner hanging near the altar.
The neighbourhood: All Souls is a few blocks away from busy Shattuck Avenue, where a few street people walk and beg. One of them was attending All Souls that day.
The cast: Rev. Andrew Walmisley, Rector, served as Deacon of the Eucharist, vested in dalmatic (with stole worn priest-wise under it) and preacher. Rev. Patricia Walker-Sprague, one of many Priest Associates at All Souls, was principal celebrant/presider. They were assisted by lay people who read the lessons and the intercessions. A lay woman, the director of youth ministries in the parish, gave the children's homily and was also sent forth as a Lay Eucharistic Visitor at the end of the liturgy.

What was the name of the service?
Candlemas Procession and Holy Eucharist: Rite II.

How full was the building?
About three-quarters full.

Did anyone welcome you personally?
Yes, when I entered the narthex, an attractive middle-aged lady noticed me and apologized for not attending me sooner. "I wanted to oogle this new baby", she said, referring to a baby being held by a mother nearby. I was also spoken to during the Peace by those around me.

Was your pew comfortable?
Yes, comfortable for a wooden one, fitting the contours of my middle-aged back very well.

How would you describe the pre-service atmosphere?
In the parish ahll, there was merry chaos, as children, teachers, choir and clergy were scurrying around to prepare for the Candlemas liturgy and procession. I had noticed, before walking to the hall, that there were some older people waiting in the church quietly. There was also an organ prelude listed in the bulletin, but I didn't hear anything at 9.55am when I arrived.

What were the exact opening words of the service?
"Light and Peace, in Jesus Christ our Lord..."

What books did the congregation use during the service?
The bulletin/booklet, 1979 Book of Common Prayer, Hymnal 1982.

What musical instruments were played?
Organ, piano and guitar. There was also a trumpet which played the tune to "How bright appears the morning star", which we sang in procession to the church.

Did anything distract you?
Nothing, really, except some audible noise from behind the choir pews during the sermon. Also, the length of the service (nearly two hours) while not distracting to this reviewer, who actually likes going to church, was lengthier than "church growth" experts advise.

Was the worship stiff-upper-lip, happy clappy, or what?
It was reverent, without being stuffy. The children made it "real" in my eyes and it was a joy to worship with them, as well as with the wide age-group represented in that congregation. It was good, solid, Prayer Book, Rite 2 worship, with hearty singing, lots of responses, and applause and laughter at appropriate points in the service.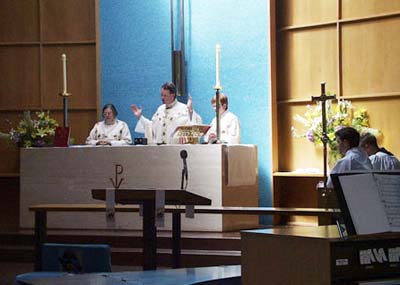 Exactly how long was the sermon?
15-17 minutes.

On a scale of 1-10, how good was the preacher?
8 – Fr. Andrew has a good homiletical style which held me 99 per cent of the time. He read from a prepared text and departed from it a few times. He got slightly "lost" in it once and some of his phrases were unpracticed so that I had to struggle a bit to follow. However, the sermon was carefully prepared, with many evidences of having consulted good commentaries.

In a nutshell, what was the sermon about?
There was a good mini-exegesis of the Gospel for the day. The congregation was reminded that they are disciples who "put out to sea and let down nets for a catch" (Luke 5). Fr. Andrew noted some interesting words and phrases: Peter falling at Jesus' knees and "partners." I wondered if the latter had to do with the gay/lesbian/bi/transgendered people in his congregation.

Which part of the service was like being in heaven?
At announcement-time, a 40-ish man, looking rather pale, was asked to come forward. He was hugged by the Rector who called him "our miracle." The man took the lectern microphone and thanked the congregation for their love, care and support of him and his family during a critical recent hospitalization for pneumonia. He'd been converted during this time, having been a casual church-goer before, but unaware of the power of God to heal through the sacraments brought to him and the ministry of the people in bringing meals to his family. He thanked God for that community which revealed its strength to this visitor and gave me hope for my own rather ingrown congregation at home. His remarks moved many, including me, to tears.

And which part was like being in... er... the other place?
Nothing, except the length of the service. Also, some of the Rector's kissing of women in the altar guild was a bit too much.

What happened when you hung around after the service looking lost?
I knew someone in the congregation from nearly 30 years ago, so I talked with him awhile. As I moved toward the "receiving line" with the clergy, I was engaged in conversation by two ladies who had earlier been up front with the altar guild. "We're retired," said one. "I'm 97," said the other. At the coffee hour, I was ignored as I stood by myself, until I started to make my way toward the healed man to wish him well and assure him of my prayers. A man and a woman talked with me before that and were very friendly and engaging.

How would you describe the after-service coffee?
I am not a coffee-drinker (except at breakfast), so I didn't partake. There was a lot of food available: cheese, crackers, fresh fruit.

How would you feel about making this church your regular (where 10 = ecstatic, 0 = terminal)?
9. I would be ecstatic about finding a parish like All Souls, especially if I had children at home. Their programs of Christian education are exemplary, full, well-funded. During my week's stay at the monastery next door, I noticed a constant activity in the parking lot and with the lights on in the parish hall every evening. There is an arts program for children (whether an arm of the parish or not, I don't know) and something for all age groups.

Did the service make you feel glad to be a Christian?
Yes, most definitely.

What one thing will you remember about all this in seven days' time?
The man who spoke about his healing.