What was the name of the service?
Choral Eucharist.

How full was the building?
Pretty full for a non-holiday – most seats in the front area were taken. Some people stood on the sides.

Did anyone welcome you personally?
They handed me a program, and that was it. When I went to the new members table afterwards, the people there were quite friendly.

Was your pew comfortable?
I sat in a wooden chair as there are no pews. It was fairly comfortable.

How would you describe the pre-service atmosphere?
The organ played. People were busy setting things up.

What were the exact opening words of the service?
"Blessed be God, the Father, the Son and the Holy Spirit."

What books did the congregation use during the service?
Just the cathedral's own program, which had all the words, hymn lyrics and some musical annotation. A pretty classy handout.

What musical instruments were played?
The cathedral's giant organ.

Did anything distract you?
No.

Was the worship stiff-upper-lip, happy clappy, or what?
It was pretty high Anglican, but not stuffy at all. The cathedral plays to a pretty diverse crowd. The guest celebrant was from England, and Pritchett was quick to point out that he had a real British accent, and wasn't just an Anglophile with pretentions. The crowd laughed.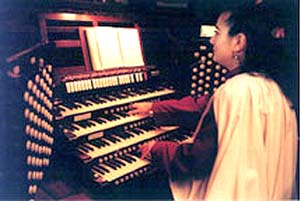 Exactly how long was the sermon?
20 minutes.

On a scale of 1-10, how good was the preacher?
About a 7. This wasn't the best I've heard from him.

In a nutshell, what was the sermon about?
Pritchett spoke about the Gospel reading, discussing the crucial importance of learning to say "no". He went on a few tangents, as well. This is his style.

Which part of the service was like being in heaven?
The organ music. The cathedral has a fantastic organ.

And which part was like being in... er... the other place?
Seeing so many homeless, obviously mentally ill, persons right outside the church.

What happened when you hung around after the service looking lost?
Nobody said anything. This is a big place and plenty of people just mill around.

How would you describe the after-service coffee?
Mediocre iced tea and cookies right out of the package. Pretty lame.

How would you feel about making this church your regular (where 10 = ecstatic, 0 = terminal)?
9.

Did the service make you feel glad to be a Christian?
Yes.

What one thing will you remember about all this in seven days' time?
Pritchett's joke about Anglophiles.