What was the name of the service?
Parish Eucharist on Easter Sunday.

How full was the building?
A good three-quarters of the pews filled.

Did anyone welcome you personally?
A beaming smile came with the books on the way in and two or three folk in the congregation said hello.

Was your pew comfortable?
No. Not enough leg room and an upright support between the legs. I had a fine view of the pillar in front of me, but not much else.

How would you describe the pre-service atmosphere?
I've been in pubs with more reverential peace.

What were the exact opening words of the service?
'Erm... just a few notices before we start...'

What books did the congregation use during the service?
As the vicar himself said, you really need to take a briefcase to church these days. A whole sheaf of papers for this Easter Day service, although normally it's a hymn book (Ancient & Modern), a homegrown service book and a newsletter.

What musical instruments were played?
Organ, plus a choir of men and boys, with lady altos. Ah, the memorable sound of children singing through their noses.

Did anything distract you?
'Bellowing baby' is an understatement. Some ghastly brat at the creche in the vestry positively screamed throughout the service. Even with the vestry door closed and the microphones turned on (fluctuant), it was difficult to hear everything said in the service.

Was the worship stiff-upper-lip, happy clappy, or what?
Middle of the road Anglican with slightly high leanings.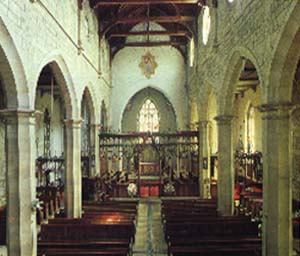 Exactly how long was the sermon?
9 minutes.

On a scale of 1-10, how good was the preacher?
10 – wonderful. He was concise, witty, informative and thought-provoking and his sermon was well thought out and genuinely inspiritional.

In a nutshell, what was the sermon about?
The importance of the resurrection to us as Christians.

Which part of the service was like being in heaven?
A great feeling of being part of the Church family.

And which part was like being in... er... the other place?
The absence of Herod the Great to deal with the child in the vestry.

What happened when you hung around after the service looking lost?
Greeted by several members of the congregation before being shepherded to the church hall for coffee.

How would you describe the after-service coffee?
Anglican coffee – neither weak nor strong, but fairly harmless – and splendid cake for Easter.

How would you feel about making this church your regular (where 10 = ecstatic, 0 = terminal)?
9. A '10' if the brat is banished.

Did the service make you feel glad to be a Christian?
Yes – a very warm and friendly atmosphere and a great feeling of Christian love. This is what the Church of England should be about.

What one thing will you remember about all this in seven days' time?
The cake!