What was the name of the service?
It was posted as 'Worship at 10.30am'.

How full was the building?
Mostly full. I reckon somewhere between 60 and 70 people. The children went upstairs and came in at the end.

Did anyone welcome you personally?
When I went inside, I looked lost for about 30 seconds and then someone came and chatted to me. He took me into the main room.

Was your pew comfortable?
It was a plastic chair with padding and comfortable in an upright way.

How would you describe the pre-service atmosphere?
On entering, you started 'your' worship. People came in and sat quietly, and so it continued. There was no formal start.

What were the exact opening words of the service?
There were no opening words, although the service ended when everyone shook hands with those who were near them.

What books did the congregation use during the service?
There was a table in the middle with a Bible and a book entitled 'Quaker Thought and Practice' on it. However, no one used them.

What musical instruments were played?
None. There was silence.

Did anything distract you?
Not in a big way. I could hear some stomachs rumbling.

Was the worship stiff-upper-lip, happy clappy, or what?
The worship was solidly silent for the first half hour. Then about five or six people who felt they had something to say got up to speak.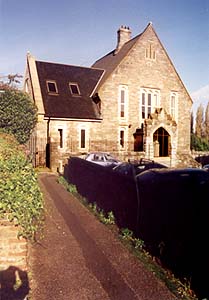 Exactly how long was the sermon?
Each of the speakers took a couple of minutes.

On a scale of 1-10, how good was the preacher?
9. The thoughts shared were very honest, open and thoughtful, with lovely snippets of words.

In a nutshell, what was the sermon about?
One person spoke of falling out with old Christian friends when he became a Quaker, and later being reconciled. Others spoke of conditional and unconditional love, and of love's effect on fear.

Which part of the service was like being in heaven?
Once I had become used to sitting quietly with a lot of people, I felt a strong but relaxed stillness.

And which part was like being in... er... the other place?
There was nothing like this.

What happened when you hung around after the service looking lost?
The man who had said hello before worship talked to me for a bit, and then lent me a book from the library introducing the Quakers.

How would you describe the after-service coffee?
The person who was meant to bring the coffee had forgotten it, so there was only tea. I didn't get around to having any.

How would you feel about making this church your regular (where 10 = ecstatic, 0 = terminal)?
8. I think I would want some other form of worship to complement a Quaker meeting.

Did the service make you feel glad to be a Christian?
Yes, it was a gentle experience.

What one thing will you remember about all this in seven days' time?
The stillness.