What was the name of the service?
The Guest Service.

How full was the building?
The building easily seats 600 and it was heaving.

Did anyone welcome you personally?
No. I got a 'hello' addressed to the middle distance as I took a Bible and service sheet, but it could have been for the person behind me.

Was your pew comfortable?
A bit short on leg room, and my shirt kept sticking to the varnish on the back, but tolerable for a service an hour and a half long.

How would you describe the pre-service atmosphere?
Bustling, lots of people greeting each other like long-lost relatives.

What were the exact opening words of the service?
'We sit or kneel to pray.'

What books did the congregation use during the service?
NIV Bibles, Red 'Christ Church Clifton Service Book' (mainly ASB inside), 'Hymns for Yesterday's Church', small service sheet.

What musical instruments were played?
All of the following (sometimes all at once, especially at the ends of hymns): organ, synth, guitar, drums, flute, oboe, two or three trumpets, two trombones, two violins, plus 24-strong, robed choir.

Did anything distract you?
I trod in a turd on my way to church and, although the service sheet helped in removing most of it, there were subtle wafts from time to time that were definitely not the fragrance of Jesus.

Was the worship stiff-upper-lip, happy clappy, or what?
It was an extremely competent prayer-hymn sandwich. Most of the songs were well-chosen and done well. Perhaps a bit triumphalistic at times. 'Amazing Grace' was completely ruined by a cheesy, Wurlitzer-sounding keyboard that created a 19th-century, small-town Pentecostal atmosphere for no good reason at all.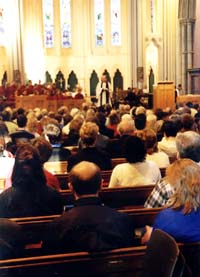 Exactly how long was the sermon?
20 minutes precisely, including a prayer for those who wanted to become Christians.

On a scale of 1-10, how good was the preacher?
4: formulaic and predictable. He completely spiritualized John 5:1-4 (the healing at the pool) – a story of physical healing. A shame, because the speaker is clearly a gifted communicator.

In a nutshell, what was the sermon about?
There's a God-shaped hole in everybody... becoming a Christian is the best thing ever, and if you don't do it, you'll regret it.

Which part of the service was like being in heaven?
A young man called Jim described how he'd become a Christian. He did this in a very genuine and human way without recourse to platitudes.

And which part was like being in... er... the other place?
When the preacher described the pool at Bethesda as being like the Roman Baths in Hotwells, the neighbouring parish, from which Christ Church filches a large proportion of its congregation.

What happened when you hung around after the service looking lost?
Ignored by almost everyone, but was spotted by someone who knew me.

How would you describe the after-service coffee?
Cheap, weak, definitely not fairly-traded, and served with an apology.

How would you feel about making this church your regular (where 10 = ecstatic, 0 = terminal)?
5. OK, they are a bit predictable, but they focus on things of first importance.

Did the service make you feel glad to be a Christian?
Yes, because it allowed some space to meet with God in your own way.

What one thing will you remember about all this in seven days' time?
I was quite near the front – it was like being at the front in a cinema: I was a bit overwhelmed (and the organ was deafening).